Dear Friend,
This week's edition of The Jacobs Journal is brought to you on the heels of the most recent mandates issued by Governor JB Pritzker. I am a health care professional. I am an eye doctor that sees patients. I am fully vaccinated and aware that COVID-19 is a serious disease that has serious implications for some people.
The State of Illinois' pandemic response has so far been left up to the sole discretion and decision making power of the governor. I have demanded many times that the legislature, as a co-equal branch of government, should have a hand in checking the power of the executive branch. To date, no debate in the Illinois House or Senate has taken place on a single piece of legislation that would in any way curb Governor Pritzker's power.
House and Senate Democrats just don't want to put themselves in a position to exercise the check-and-balance power granted to them in the Illinois Constitution. I have been shocked many times that my Democratic colleagues in the Illinois House and Senate have chosen to turn complete control of the pandemic response over to Governor Pritzker.
I am also a staunch advocate for local control. The decision of whether to require students and staff to wear masks indoors should be left to local school districts and local health officials based on statistics and science.
If I am not being clear enough, let me simplify. I firmly believe it is time for Governor Pritzker to stop his endless executive orders, for the Illinois legislature to get in the game, and for local control to be restored!
To that end, I am working with my colleagues to collect petition signatures demanding a return to local control. We believe the legislature, as a co-equal branch of government, should demand an end to the governor's endless executive orders. Let's get to work to pass laws to address the governor's unchecked powers, and return government to the people of Illinois! Sign the petition by clicking here! The petition effort has resulted in more than 5,000 signatures, and more people are signing every day. Let your voice be heard on this critical issue of local control!
Summer Reading Club Program Ends on with Night at the Ball Park
I'm happy to report to you that my summer reading program has come to an end with a successful night at the ball park as we all watched the Southern Illinois Miners take on the Joliet Slammers in an exciting game that ended with the Miner's falling to the Slammers by the score of 14-11. We'll be hosting another summer reading program in 2022 – stay tuned for your chance to participate!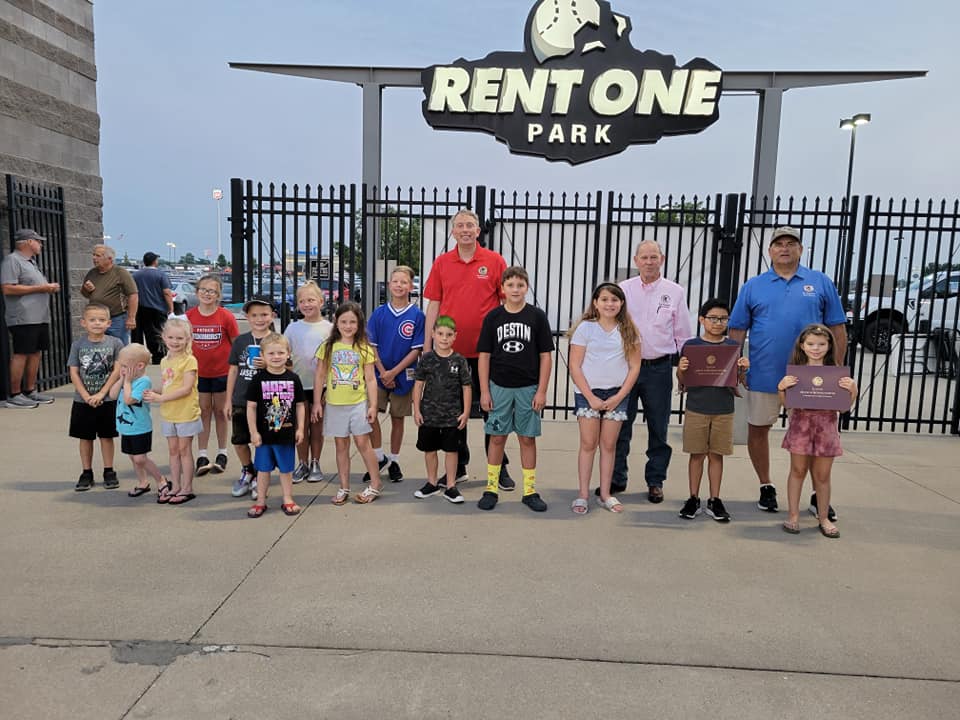 House Republicans Week in Review
Week in Review for week ending 8/7/21
Key
COVID-19

Pritzker imposes mask mandate on schools
House Republicans oppose unilateral action

Budget – FY22 begins
Downstate – Cairo Port District
First Responders

Brooklyn officer killed on duty
Facebook ad ban

Illinois State Fair
Jobs – UI trust fund deficit
Pensions – CGFA annual report
Veterans – LaSalle Veterans Home
COVID-19
Governor Pritzker imposes mask mandate on schools, long-term care facilities. As COVID-19 infection rates across the state continue to increase and with a number of school districts not yet adopting CDC guidance on masking, Governor JB Pritzker and IDPH Director Dr. Ngozi Ezike announced this week that masks will be required for students, teachers, and staff at pre-kindergarten-12th grade schools and day cares across the state. The new requirement formalizes CDC guidance released in July on universal masking for both unvaccinated and vaccinated people in schools to ensure a safe return to classrooms.
The governor also announced his intent to require all state employees working in congregate facilities to receive the COVID-19 vaccine by October 4th. The State is informing the unions representing these employees of its intention to move forward with this requirement, which covers employees at the Departments of Human Services, Veterans' Affairs, Corrections and Juvenile Justice working in congregate facilities. The State is also requiring universal masking in private long-term care facilities and strongly encourages owners of private facilities to join the State in adopting vaccination requirements.

In preparation for the start of the upcoming school year and in response to the highly contagious Delta variant, all students, teachers, and staff at pre-kindergarten – 12th grade schools and day cares will be required to wear masks regardless of vaccination status, effective immediately. The State is also requiring universal masking in long-term care facilities regardless of vaccination status.
The mask requirement is inclusive of youth sports and activities, with masks now required for all indoor extracurriculars and sports. In line with CDC guidance, masks are not required for activities outdoors where transmission risks and rates are lower.
The administration is providing free testing to all pre-K-12 schools in Illinois outside of Chicago, which received a separate federal funding allocation for testing.
IDPH also provided additional guidance for students and staff who are exposed to someone who tests positive for COVID-19. Close contacts of a positive case can remain in school if they receive testing on days one, three, five, and seven post exposure and if they wore masks at the time of exposure.
House Republicans oppose Governor's unilateral action; urge concerned citizens to sign petition in support of local control. In response to Governor Pritzker issuing a statewide mask mandate in Illinois schools, House Republican Leader Jim Durkin released the following statement:
"For over a year, the Governor cut out a co-equal branch of government and ruled the state with unilateral authority instead of working collaboratively to handle the Covid-19 pandemic in Illinois. Governor Pritzker must put this continuing power trip aside and allow local health departments, elected officials, schools and most importantly, parents, to make decisions on these serious issues to help stop the spread of Covid-19."
Assistant Republican Leader Deanne Mazzochi released the following statement:
"My district office has been flooded with calls of outrage about this latest mandate. Governor Pritzker is once again not reasonably assessing the data; not following science; and proclaims he has unilateral executive powers that the legislature actually refused to give him. Reflecting the input of our districts, House Republicans voted against HB 2789 precisely because it gave the Governor and IDPH more unprecedented control over how schools operate on this issue. The Senate refused to even consider giving the Governor and IDPH this much power over schools. If the Governor thinks this power is genuinely necessary for public safety, he can call us into special session and justify it with real facts and evidence and in the light of full transparency. Then all of our stakeholders, particularly parents and local school boards, could have a voice in any outcome, and the democratic process of government can work. Instead, Governor Pritzker issued a mandate he knew many regions would find unacceptable, unnecessary, or flat out unworkable, and at his press conference threatened that the path of non-compliance (even with no bad outcomes) means school costs lost to litigation, insurance coverage put at risk, or even school decertification."
Assistant Republican Leader Avery Bourne released a statement urging concerned citizens to sign our petition in support of local control over school masking decisions:
"Yesterday Governor JB Pritzker issued a statewide mandate, requiring students to wear masks in K-12 schools this fall. I, along with my colleagues in the legislature, were not included in this decision. This is the same pattern the Governor has taken for the prior 18 months of executive orders by the Governor.
I have the privilege of serving on three different education committees in the Illinois House. Never once have we had a hearing on mask mandates, the governor's executive authority, or the best way to reopen schools this coming fall. This will be the third school year students have been impacted by the COVID-19 pandemic. There are hundreds of elected school board members across this state who are capable and qualified to work with parents, teachers, and administrators to make the best decisions to keep their students safe and learning. A blanket statewide mandate is not the answer. I have always been an advocate for local control when it comes to education policy. Governor Pritzker should cede this issue to local school boards, who are more than capable of discerning what is necessary for schools and students.
Members of the House Republican Caucus continue to push for local control and common sense on this issue. After hearing concerns from schools and parents, yesterday, House Republican Leader Jim Durkin sent a letter to State Superintendent of Education Ayala. The letter asks for clarification on whether or not the Governor can take away state funding if a school chooses not to comply with the mask mandate. The letter also tackles the question of delivering PPE equitably to all school districts; something that the Governor publicly promised. With the mask mandate having an immediate effective date, House Republican lawmakers are eagerly awaiting a response from the Superintendent."
On Friday, August 6th, members of House Republican Caucus filed House Resolution 416, which urges Governor JB Pritzker, the Illinois State Board of Education, and the Illinois Department of Public Health to reinstate local control and allow duly elected school board members to make decisions on COVID-19 mitigation efforts that best fit the community and school districts in which they serve.
While the voices of students, parents, educators, and school boards were seemingly silenced in this unilateral decision by the Governor, there are still opportunities for you to speak up! We have created a petition where you can share your feedback on this recent mandate here: https://www.ilhousegop.org/coequal.
BUDGET
With the State of Illinois one month into FY22, the General Assembly gets its first look at the new budget and its revenue. The FY22 Budget Summary from the Commission on Government Forecasting and Accountability (CGFA), a bipartisan economic analysis arm within the Illinois General Assembly, describes the budget passed by the majority party. The Budget Summary was released on Thursday, July 29.
The record spending contained in the FY22 State budget will require billions of dollars' worth of new revenue. These spending outflows will place renewed pressure upon the State's balance sheets. The CGFA revenue analysis for recently concluded July 2021, the first full month of the 2022 fiscal year, shows that these revenue targets are already under threat. Illinois' July 2021 revenues dropped sharply in comparison to July 2020, with personal income tax receipts down $1,161 million for the month and total revenues down $1,104 million. While this decline was expected – it is the consequence of a one-time income tax "pandemic holiday" granted in calendar year 2020 which delayed the State income tax payment cycle into July of that year – the decline signaled the overall challenges facing Illinois' budget this year.
CGFA's analyses often include feature articles on particular threats to the Illinois revenue picture. For July 2021, a nonpartisan staff analyst outlined the falling revenues from Illinois' brick-and-mortar casinos. Illinois casinos continue to lose market share to storefront video gaming installations, and expanding online gaming is on the horizon and will also affect this heavily taxed industry. Illinois continues to have the lowest credit rating of all 50 states.
DOWNSTATE
Alexander-Cairo Port District poised to create 500 jobs. The positions will be good-paying construction jobs filled by men and women who will rebuild one of Illinois' most historic ports. Located where the Ohio and Mississippi Rivers come together, Alexander County – the southern tip of Illinois – and its county seat, Cairo, are strategically located for shipping and logistics. However, the small port city's historic steamboat-oriented layout is not suited for modern container freight traffic. The Alexander-Cairo Port District has put together a financing plan for concrete pads and cranes. This infrastructure will move containers from barges to a riverfront railroad line, and to adjacent roadways for truck traffic. Engineering and design work is in progress, and a construction labor contract was signed this week. An estimated 80% of U.S. inland barge traffic travels past Cairo.
FIRST RESPONDERS
Officer Brian Pierce, Jr. killed on duty with the Brooklyn Police Department. Brooklyn, a Metro East community, is located on the Mississippi riverfront just north of East St. Louis. While deploying spike strips on the McKinley Bridge, Officer Brian Pierce was hit and fatally injured by the driver of a red Dodge Charger. Brooklyn police stated that the hit-and-run fatality followed an incident at a local nightclub.
The driver of the Charger, after striking and killing the police officer, continued over the bridge into St. Louis, where the vehicle was later found abandoned. Pierce's fellow police officers stated that the young officer had worked in police service for more than two years, in Spillertown and then in Brooklyn. Officer Pierce's fatal incident occurred early on Wednesday, August 4.
Illinois Association of Chiefs of Police respond to Facebook ad ban. The exchange of views took place as the statewide police chiefs' association submitted the text of what would have been a paid post. The IACP message honored East Peoria Patrolman Jeffrey Bieber as the IACP's "2021 Most Outstanding Law Enforcement Officer of the Year." Patrolman Bieber was honored following a February 2, 2021 incident in which he responded to a domestic disturbance call. In the incident, a suspect inflicted multiple stab wounds upon Patrolman Bieber and was shot to death.
Facebook refused to promote the message as a paid communication, stating that the police message dealt with what the tech giant called "sensitive social issues." IACP executive director Ed Wojcicki demanded an explanation for the move. "All we're trying to do is to honor a brave officer," the IACP leader said. "They say this violates their advertising policy because it's somehow political." Following the incident, Patrolmen Bieber was hospitalized for months with severe nerve damage in the head and neck.
ILLINOIS STATE FAIR
Final preparations underway for Illinois' flagship summer festival. The Illinois State Fair will be held under pandemic conditions, with fairgoers urged to maintain social distancing and wear facemasks indoors. Most of the Fair's events take place outdoors. The Illinois Lottery Grandstand, venue for the State Fair's prime musical events, is an outdoor space. Tickets are available for the Fair's entertainment headliners. After a break in 2020, Illinois will celebrate its State Fair through the third week of August, from August 12 through 22.
JOBS
Some new hiring as Illinois heads toward $5 billion unemployment trust fund deficit. Illinois' system of unemployment benefits centers on Unemployment Insurance (UI), an employer-financed "rainy day" system of supplemental payroll taxes levied at workplaces. All persons classified as "employees" are, if involuntarily laid off, granted standing to file for unemployment benefit. The benefits are supposed to be paid out of a trust fund gathered from the accumulated moneys paid in by the employer who laid the employee off.
The 2020-21 global COVID-19 pandemic placed great stress on the Illinois UI system. Hundreds of thousands of Illinois residents were laid off and began filing for benefits, quickly choking the UI application system. At the same time in Washington, Congress passed legislation that collapsed the historic distinction between "employee" and "contractor" with respect to jobless assistance. The creation of a new set of quasi-UI benefits for non-employee personnel multiplied the stresses on the system. In addition, criminals quickly learned that persons who had been the victim of identity theft could have their names and personal identity information hijacked. The hijacked "names" began to file a flood of UI claims, demanding millions of dollars in UI benefits.
Under this stress a key piece of Illinois' UI system, the "insurance" tie between an employer, the employer's ex-employee, and the ex-employee's unemployment benefit, completely collapsed. The floodgates opened up and more than $4 billion never paid in by employers, nor tied to any specific ex-employee or group of ex-employees, was out the door in short order. Current final estimates suggest that by the end of calendar year 2021 this number may rise to above $5 billion.
Under current law, this $4 billion – $5 billion figure has been borrowed from the U.S. Department of Labor (USDOL) in Washington. The money is supposed to be paid back by increasing future supplemental taxes on Illinois payrolls. Federal law requires repayment of this debt plus interest.
Regarding actual unemployment figures, the overall situation improved in Illinois in summer 2021 with rapid re-hiring in many economic sectors. A metro-area look at the unemployment picture in June 2021 showed jobless rates returning to single digits in every major metro region of the state, including the key Chicago-Naperville-Arlington Heights region. June 2021 unemployment in this key Greater Chicago region was 9.2% in June 2021, signaling continued conditions of severe unemployment; but this number was a significant improvement over the disastrous 15.7% jobless number posted twelve months earlier in June 2020. The IDES Metro Area Report for June 2021 also showed similar improvements in the Metro-East, Peoria, Rockford, and other Illinois cities and metropolitan areas.
PENSIONS
CGFA issues pension report. Illinois has the lowest credit rating among the 50 states. One reason for this is the fiscal condition of the state-managed pension retirement systems. Earlier this week, CGFA released its annual report on the condition of these pension systems as of FY20. The report also contains forward-looking projections and estimates based upon the condition of the systems as of the end of FY21.
The CGFA report confirms that Illinois' state-managed pension systems continue to be in a position of deep deficit. The system, at the end of FY21, had $99.5 billion in assets. At the same time, its vested persons represented projected accrued liabilities of $242.6 billion. This represents an unfunded liability of $143.1 billion, and a funded ratio of 41.0%. While representing a condition of severe underfunding, this funded ratio of 41.0% represented a positive reversal of previous trends. The funded ratio went up from 39.0% on 6/30/20 to 41.0% on 6/30/21. There were several reasons for this improvement, including: (a) substantial payments by the State into the pension systems in FY21 and (b) good U.S. investment returns during this period.
The five State-managed pension system cover the actuarial retirement promises made to large groups of public-sector employees, including teacher and educators, State employees, higher education professors and educators, General Assembly members, and judges.
VETERANS
House Republicans call for criminal probe of LaSalle outbreak. State Representative Deanne Mazzochi wrote to Attorney General Kwame Raoul once again asking for an investigation into the poor practices that led to a massive COVID outbreak at the LaSalle Veterans' Home and the deaths of 36 veterans in the state's care.
On May 11th, 2021, House Republican Leader Jim Durkin and other Republican Caucus members sent a letter to Attorney General Raoul. The letter was a response to the scathing report issued by the Acting Inspector General for the Illinois Department of Human Services. "The report outlined such disorganized leadership that it rises to the level of potential criminality," Rep. Mazzochi explained. "An investigation by the Attorney General's office is absolutely warranted." Specifically, the letter cited a statute in the Illinois Criminal Code that addresses abuse and neglect of the elderly and disabled.
"The overwhelming and avoidable loss of life at the LaSalle Veterans' Home demands accountability and action," Rep. Mazzochi said.
AG Raoul has yet to respond or open an investigation into the actions taken before and after the outbreak by either the executive branch, those leading the Department of Veterans' Affairs, or those running the facility. "If the Attorney General does not believe an investigation is warranted, even after reading the IG report, when he chose to investigate the Legionnaires outbreak under the previous governor for two years, then it's not accountability; it's politics," Rep. Mazzochi continued. "At the very least we should know why the AG is refusing to investigate and what action we in the legislature can take to tighten up the law to prevent such atrocious mishandling of our veterans care."
In a follow-up letter, Rep. Mazzochi is demanding answers to the Attorney General's position on the matter. Rep. Mazzochi further asks the Attorney General: "If the law as currently constituted is insufficient to protect them [our veterans], we need to know now so that appropriate statutory adjustments can be prepared in advance of the next legislative session."
The letter was sent to Attorney General Raoul's office on Friday, July 30th and was signed by over two dozen fellow State Representatives.
###