Dear Friend,
I want to start out this week's edition of The Jacobs Journal by expressing my most heartfelt concern and prayers for the citizens of Kentucky and Illinois impacted by the devastating tornadoes that ripped through the midwest last evening. My wife Rhoda and I are thinking of and praying for the loved ones of those who lost their lives to these extreme weather events. I am especially hopeful for those that have not been accounted for that they would be found safe and well. I also wish to thank the emergency response coordinators, the meteorologists that warned us of coming danger, and especially the first responders, firefighters, police, and emergency personnel on the ground responding to the devastation. Clean up will take time, and so will healing. Join me in praying today for the communities that have been literally ripped apart by these storms. God Bless You One and All.
Busy Week in the 115th District!
This was a BUSY week in our region. Southern Illinois was buzzing this week with news of new investments coming to our area.
Alto Pass Receives $4.4 Million Grant Award for Wastewater Treatment Plant
The Governor was in Alto Pass this week on Wednesday to announce a grant for $4.4 million for a water treatment facility. This investment will provide good-paying jobs throughout Southern Illinois for a nice boost to our economy, and create a safe, efficient sewage system for the good people of Alto Pass.
Walker's Bluff Ground Breaking
I was pleased to join hundreds of southern Illinoisans and investors that are working to build the new Walker's Bluff Casino and Resort in rural Carterville. The groundbreaking for this project marks the beginning of a new phase in this development. Congratulations to Dave and Cynde Bunch on seeing their many years' worth of work coming to fruition. Thank you to State Rep. Dave Severin, and State Senators Terri Bryant and Dale Fowler for their hard work on this project. I voted YES on legislation that will ensure hundreds of Southern Illinois union laborers are working on this job.
Rep. Paul Jacobs Sponsors Bill Banning Discrimination Based on COVID-19 Vaccine Status
I have signed on to sponsor legislation that creates the COVID-19 Religious Exemption Act.
The legislation makes it unlawful for any person, public or private institution, or public official to discriminate against any person in any manner because of such person's refusal to obtain, receive, or accept a COVID-19 vaccination contrary to his or her belief.
This proposal would protect Illinoisans who receive public assistance through unemployment and LINK card food assistance could not be cut off from support or discriminated against based on their COVID-19 vaccine status. HB 4239 would make it illegal to refuse any form of aid, assistance, or benefits, or to condition the reception in any way otherwise entitlement to such aid.
2021 Holiday Diaper Drive Continues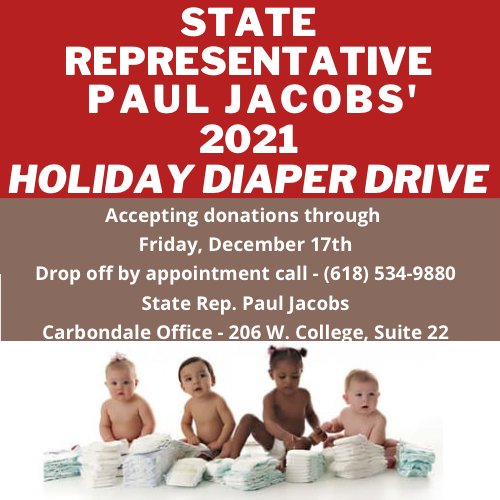 Stay Connected!
My staff and I are available to serve you! You can reach my offices by calling 618-534-9880 or 618-559-7018. You can also reach me by my website contact form at RepPaulJacobs.com/contact