SPRINGFIELD – State Representative Paul Jacobs (R-Pomona) kicked off a capitol news conference on Thursday by asking ranking members of the Illinois House and Senate's Human Services and Human Services Appropriations Committees to convene immediate joint House and Senate hearings of the Committees to investigate disturbing reports of abuse and neglect of the residents of Choate Mental Health and Developmental Center.
The press conference comes on the heels of all members of the Illinois House and Senate Republican caucuses signing on to a letter that was sent to the Chairpersons of the House Committees charged with oversight of the Illinois Department of Human Services requesting the hearings and follows news reports that have quoted Governor Pritzker threatening to close down the facility if changes and improvements aren't made.
"We've got an opportunity to implement a plan to help the residents and employees at Choate to once again make it a safe, healthy and respectable facility. But we must start by bringing in officials from Choate and from the Department of Human Services and gathering members of the relevant House and Senate Committees so we can have our questions answered about past abuses and ongoing problems at the center," Jacobs said. "It is the proper role of the legislature to investigate and offer oversight and solutions into matters that are this important."
A portion of the letter sent by all members of the House and Senate Republican Caucuses reads:
It is our sincere hope that as the chairpersons of the House and Senate Committees charged with the duty of overseeing the operations of and funding for the State of Illinois' various mental health facilities, you would act with urgency in cooperation with us to get to the bottom of, and eventually solve, the many problems at Choate Mental Health and Developmental Center. It is vital that we address these issues immediately so that this critical facility can continue to serve the 270 residents who depend on it. This is their home. We cannot displace these vulnerable individuals because for many of them this is their last resort. The state of Illinois has a duty to them. They deserve better, their families deserve better, and the staff that serves them deserve better.
"Governor Pritzker has only recently made threats to close down Choate," Jacobs said. "I want the Governor to know that I share his frustration and stand ready to work collaboratively to fix these issues and keep Choate open. We can and will not accept a policy that gives up, a policy that throws our hands in the air in disgust and says nothing can be done. And I will fight every attempt to close down a facility that means so much to the residents of Choate and their families."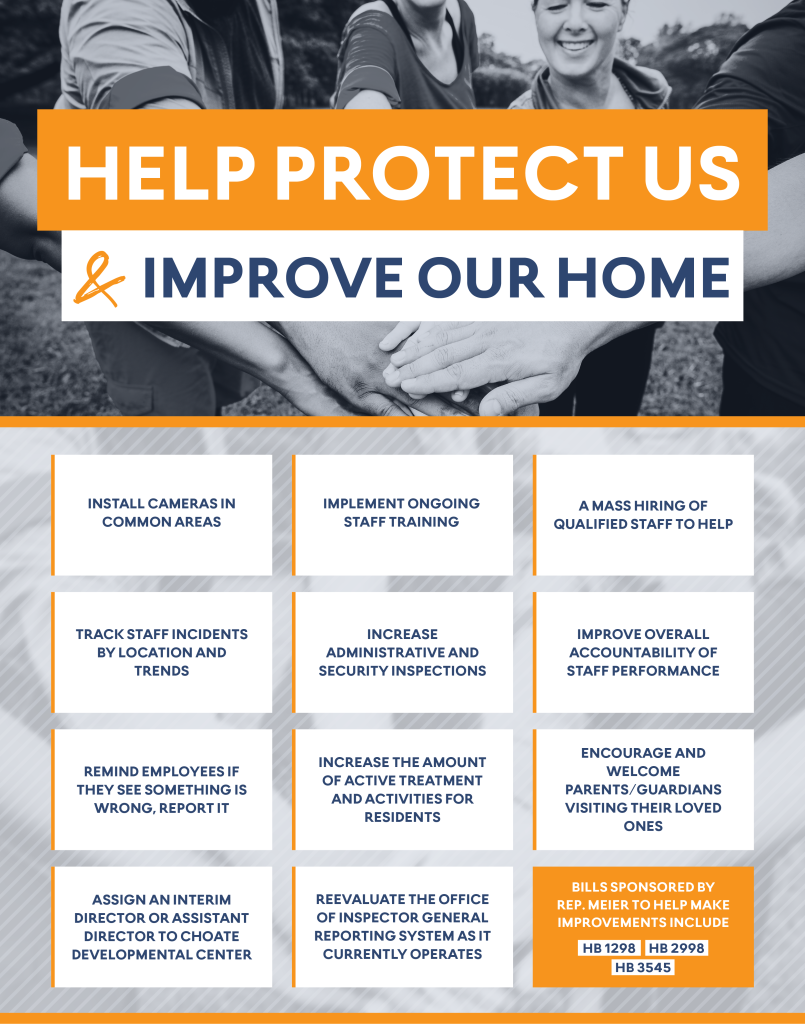 The Republicans unveiled an 11-point proposal they say could begin to fix issues at Choate right away. The plan includes:
Install cameras in common areas
Implement ongoing staff training
A mass hiring of qualified staff to help
Track staff incidents by location and trends
Increase administrative and security inspections
Improve overall accountability of staff performance
Remind employees if they see something is wrong, report it
Increase the amount of active treatment and activities for residents
Encourage and welcome parents/guardians visiting their loved ones
Assign an interim director or assistant director to Choate Developmental Center
Reevaluate the Office of Inspector General reporting system as it currently operates
Jacobs was joined at the press conference by fellow State Representative Dave Severin, Rep. Charlie Meier, and State Senators Dale Fowler, Terri Bryant, and Jil Tracy.
###