Dear Friend,
The Illinois House has reached a milestone week in the first year of the 103rd General Assembly. This Friday marks what is known in Springfield as "3rd Reading Deadline". This means all House Bills that are not dealing with the budget or other major issues must pass the Illinois House prior to the close of business of the House on Friday. Lawmakers are spending time in Session on the House Floor as well as taking up amendments in House Committees.
I'm also busy working with officials of the Pritzker Administration to hold them accountable for the promises they've made to improve facilities and patient and family relations and care at Choate Mental Health and Developmental Center. I am in constant contact with officials on the ground and in Springfield. My priority is taking care of the residents and their families, and to continue to demand results and accountability from the Department of Human Services and the Governor's office.
This week's Jacobs Journal has more information on upcoming grant deadlines and scholarship opportunities. Thank you for reading!
Back to Business Grants Available from DCEO
Through the Back to Business (B2B) program, the State of Illinois is offering $175 million in grants for businesses in industries hardest-hit by the pandemic, specifically, restaurants, hotels and businesses in the creative arts industry. Applications are open from April 5, 2023 – May 10, 2023. Information on how to apply is listed below. To learn more about B2B and Business Interruption Grant Programs, visit Illinois.gov/B2B
Back to Business (B2B) Grants for Creative Arts, Hotels & Restaurants
The Back to Business (B2B) grant program provides recovery grants for businesses in the hardest-hit industries. Through the state's B2B and Business Interruption Grant (BIG) Programs, DCEO has provided more than $535 million to more than 15,000 businesses since the start of the pandemic.
Eligible restaurants, hotels and creative arts businesses are eligible to apply for $175 million in available grant funding as part of our efforts to support ongoing recovery in hard-hit industries. All applicants will receive a grant as long as they meet eligibility requirements, submit proper documentation and attestations required by the program.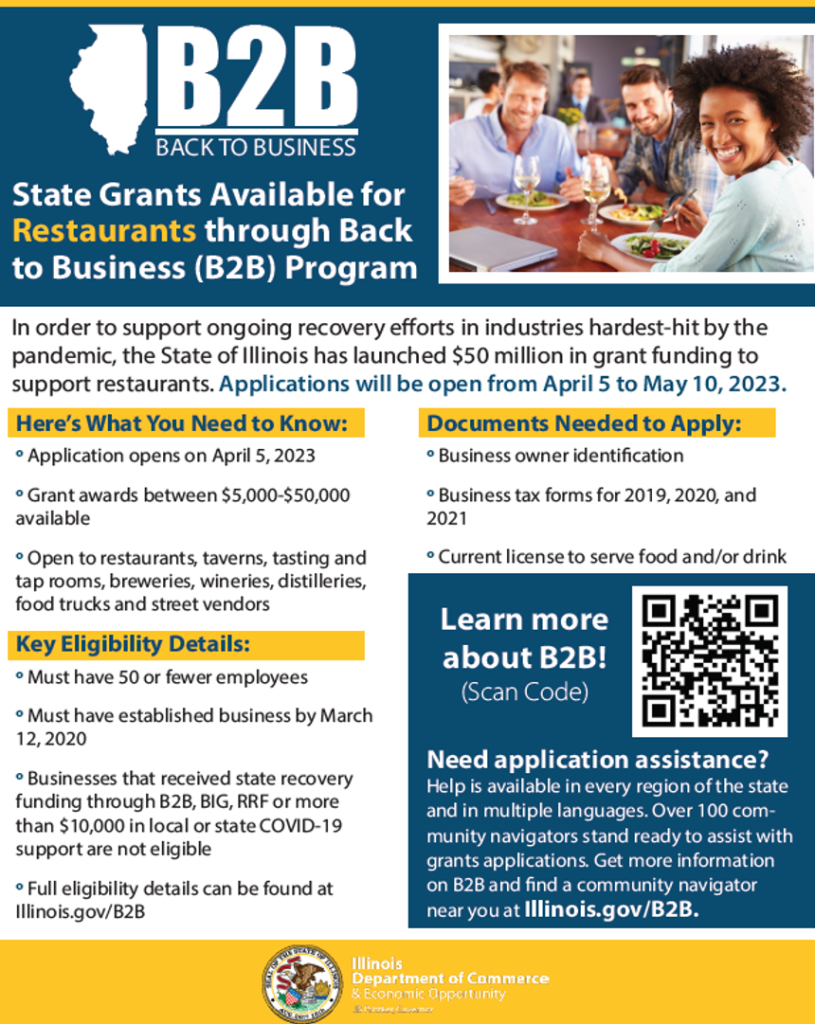 The program design for B2B Restaurants, B2B Hotels, and B2B Arts, respectively, are based on legislation which established the Restaurant Employment and Stabilization Grant Program (20 ILCS 605/605-1100), Hotel Jobs Recovery Grant Program (20 ILCS 605/605-1095), and the Illinois Creative Recovery Grant program (30 ILCS 709/40).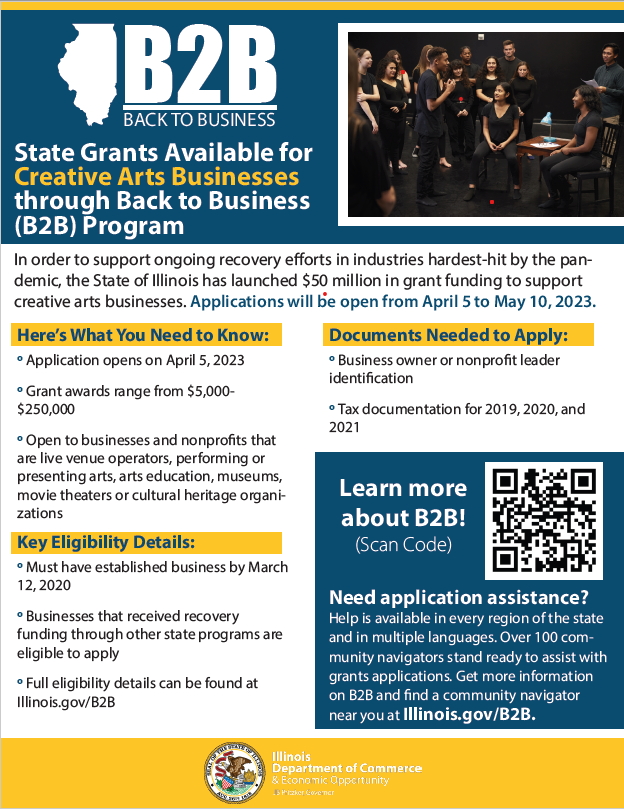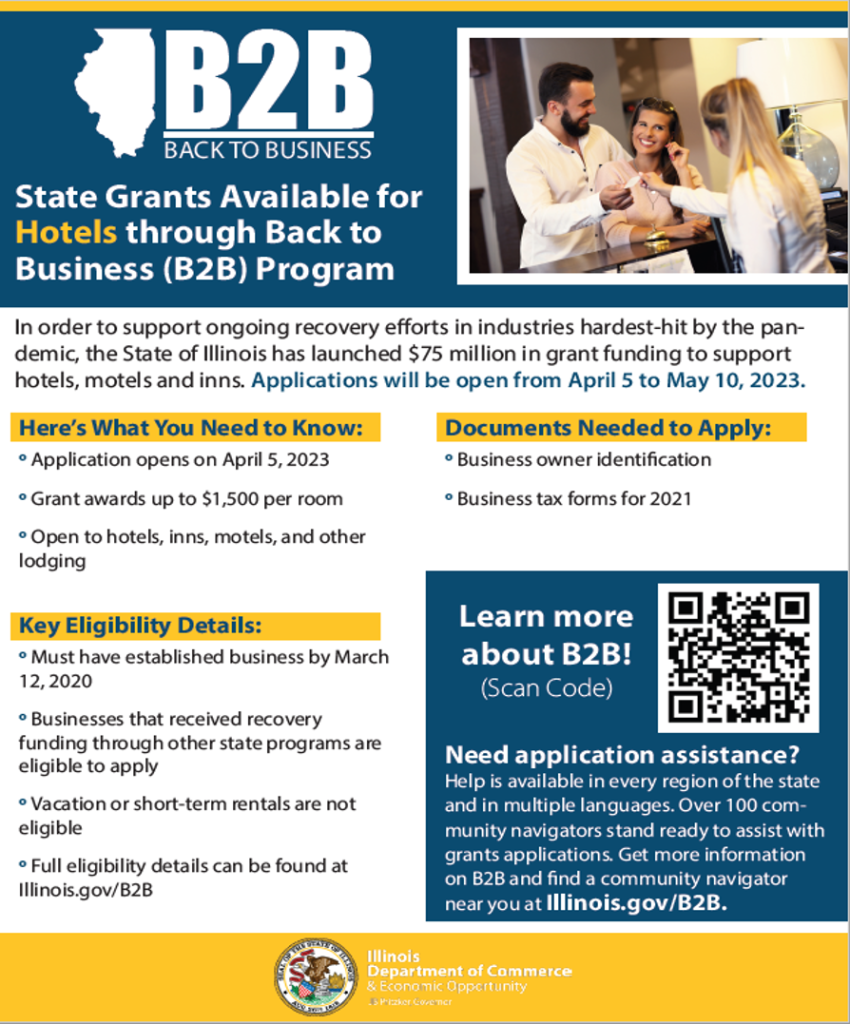 Applications will be open between April 5th and May 10th, 2023. DCEO encourages applicants to familiarize themselves with program eligibility requirements and reach out to local community navigators with any questions.
https://ilgrant.communitydevelopmentfund.org/submit
According to a new study from the personal-finance website WalletHub. Illinois' combined state and local tax rate of nearly 15.1% is the highest among all 50 states and the District of Columbia. The dubious distinction comes at a time when Illinois is forecast to bring in billions in revenue above projected estimates, and underscores the urgent need for permanent tax relief. In Illinois, state and local tax payments by households making the median U.S. income amounted to $10,463, the highest amount in the nation.
When adjusted for cost of living, Illinois still ranks 47th on the list.
https://wallethub.com/edu/best-worst-states-to-be-a-taxpayer/2416
Stay up to date with the latest news – Like my Facebook page!
Want to stay up to date on all the news and notes from Springfield and beyond? Click the LIKE button below and go give my page Rep. Paul Jacobs a like and a follow!
Stay Connected!
As the new 118th district boundaries have taken effect, I have opened an office in Marion and Carbondale to serve the needs of the residents of my new district. It is my honor to serve you. My staff is available at the following locations to assist you with any state-government related needs! You can email me at Jacobs@ILHouseGOP.org or visit my website at RepPaulJacobs.com to stay up to date.
District Office – Marion
600 Halfway Rd. Suite 103
Marion, IL 62959
(618) 559-7018
District Office – Carbondale
206 W. College, Suite 2
Carbondale, IL 62901
618-534-9880
Springfield Office
234-N Stratton Building
Springfield, IL 62706
217-782-0387
###