Dear Friend,
The Illinois House is moving closer to the scheduled May 19th adjournment. That means legislation will be moving fast and furious through the process in the coming days. Lawmakers return to Springfield tomorrow to get back to work.
The ComEd Four corruption trial ended this week with four guilty verdicts on all four counts for all four defendants in the case of alleged bribery of former, and now indicted House Speaker Michael J. Madigan.
I've got my reaction to those verdicts, a special survey you can take to let your voice be heard on corruption in Illinois, and video of a special presentation I made to the John A. Logan College Men's Basketball National Champions on the House Floor on Wednesday. Thank you for reading this edition of The Jacobs Journal!
Rep. Jacobs Reacts to "ComEd Four" Trial Guilty Verdicts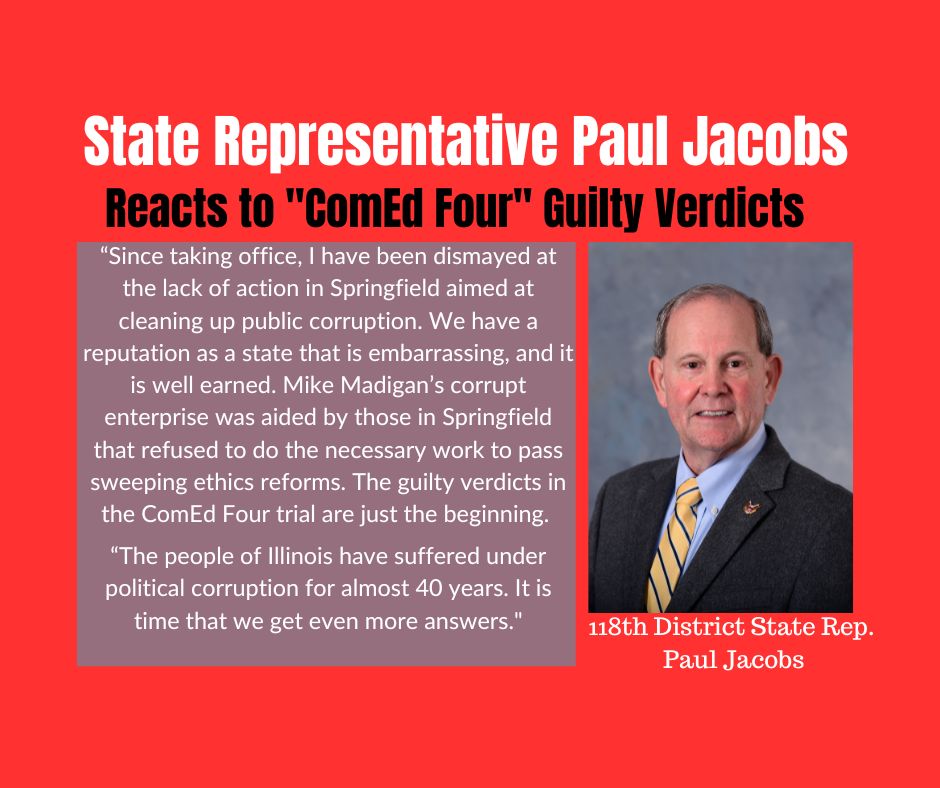 POMONA – State Representative Paul Jacobs (R-Pomona) reacted to the news of guilty verdicts handed down today by a Federal jury in the case of four former Commonwealth Edison executives accused of wrongdoing in a sweeping federal investigation into the corruption of former House Speaker Mike Madigan. Jacobs issued the following statement.
"Since taking office, I have been dismayed at the lack of action in Springfield aimed at cleaning up public corruption. We have a reputation as a state that is embarrassing, and it is well earned. Mike Madigan's corrupt enterprise was aided by those in Springfield that refused to do the necessary work to pass sweeping ethics reforms. The guilty verdicts in the ComEd Four trial are just the beginning.
"The people of Illinois have suffered under political corruption for almost 40 years. It is time that we get even more answers."
Rep. Jacobs Offers Corruption Survey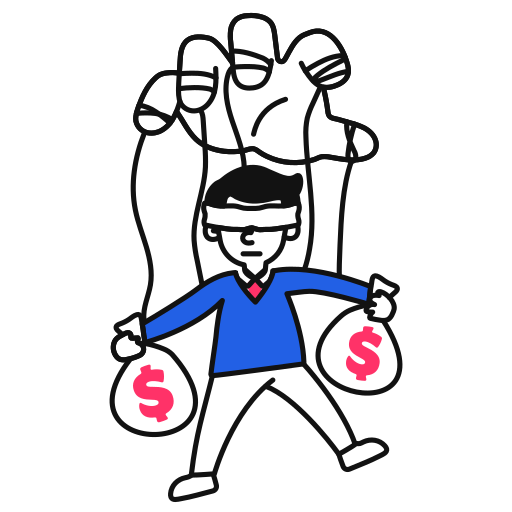 Illinois government has been plagued by corruption for decades. In the last decade alone, ten sitting or former elected state officials have been charged in federal court with public corruption-related activities. This includes longtime Speaker of the House Michael Madigan who is awaiting trial on charges of racketeering, bribery, fraud and extortion.
The ComEd Four trial ended in four guilty verdicts on all four counts for the four ComEd officials charged with bribing Madigan with no-show jobs and lobbying contracts in exchange for positive movement on legislation favored by the energy giant.
In recent years, politicians in Springfield have stalled efforts to close loopholes in state law that allow a culture of corruption to persist. As your State Representative, I am committed to solutions that will deliver meaningful ethics reform and begin restoring public confidence in the stewardship of our tax dollars.
Your feedback is crucial to my ability to serve as your voice in Springfield. Please take a moment to complete a short 3-question survey to let me know if you support ethics reform and ending the culture of corruption in Illinois.
Rep. Jacobs Honors John A. Logan College
National Champions with HR 250
SPRINGFIELD – State Rep. Paul Jacobs (R-Pomona) honored the 2023 NJCAA Division 1 National Champion John A. Logan College Men's Basketball team in the Illinois House on Wednesday by passing House Resolution 250. Members of the John A. Logan Men's Basketball team's coaching staff, and administrators from the college were in attendance as Jacobs read a portion of the Resolution congratulating the team.
HR 250 congratulates the John A. Logan College men's basketball team, the Volunteers, on winning the 2023 National Junior College Athletic Association (NJCAA) Division I National Championship, congratulates those who helped build the program into a championship team, and wishes the team the very best of luck in continuing to build a successful program well into the future.
Stay Connected!
I am happy to offer my constituents three full time offices where they can access services and have their questions answered. You can reach me by email at Jacobs@ILHouseGOP.org and you can stay up to date on all the latest news at RepPaulJacobs.com.
District Office – Marion
600 Halfway Road, Suite 103
Marion, IL 62959
(618) 534-9880 – phone
District Office – Carbondale
206 W. College, Suite 22
Carbondale, IL 62901
(618) 534-9880
Springfield Office
234-N Stratton Building
Springfield, IL 62706
(217) 782-0387