Dear Friend,
This past Friday night, the Illinois House was scheduled to adjourn the 2023 spring session. In the waning days of the session, lawmakers were busy finalizing action on a number of bills and resolutions. As the deadline approached, the "big" work left to do remained the state budget. That stayed true right up until and now through the deadline that Democrats set to finish the House's business. The Democrats hold supermajorities in each chamber of the legislature. They can basically do anything they want if they decide to unite on an issue.
However, spending seems to be a major area of contention within the Democratic caucus, as news reports detailed that several rank-and-file Democrats went on record saying they haven't seen or heard of even a draft budget.
From the beginning of this Session, I have argued that because Illinois is constantly ranked at or near the bottom of lists for taxpayer friendliness, the state should CUT some taxes so middle class families working to make ends meet in the age of inflation and high taxes can experience some relief. The state suspended the sales tax on groceries and medicine for the period of the FY 23 budget (July 1, 2022-Jun 30, 2023). Those tax suspensions have saved Illinois families money during a time of rampant inflation. Inflation is still rampant, and the need to continue these tax cuts is great. Every dollar counts!
As we move toward the end of May, the necessity of passing a budget becomes much more urgent. After May 31, a supermajority vote is required to pass any budget bills. As Democrats continue to fight with each other over how to spend your money, I will continue to demand that any budget agreement must be balanced and must include tax cuts for middle class families. After blowing their own self imposed deadline Friday night and adjourning for the weekend, Democrats have plans to bring the House and Senate back to work on Wednesday through Friday of next week.
Stay tuned to RepPaulJacobs.com or visit my Facebook page to keep up with all the latest breaking news from Springfield. I've got a recap and some links to video from legislative action from throughout the last week in this edition of the Jacobs Journal. Thank you for reading.
Jacobs Earns Unanimous Support for Legislation that will Bring Copi Fish Processing Center to Alexander County
SPRINGFIELD – State Rep. Paul Jacobs (R-Pomona) earned unanimous support for a bill he sponsored that will create up to 30 good-paying jobs in Alexander County. SB 1068 authorizes the director of the Illinois Department of Natural Resources to begin the process of transferring property located in Alexander County to Two Rivers Fisheries
"This was an initiative of the Illinois Department of Natural Resources. We are working to enhance awareness of the use of Copi, formerly known as Asian Carp. Two Rivers Fisheries plans to open a plant to process Copi for the purpose of transporting the fish as food to locations around the world," Jacobs said. "I want to note that this was a bipartisan effort that began with IDNR and that this bill received unanimous support in both the Illinois House and Senate."
More Budget Background
Governor's Office revises FY23 revenue numbers sharply downward. The revision came in the monthly report that is required by law to be presented by the Governor's Office of Management and Budget (GOMB) to the Legislative Budget Oversight Commission. By statute, the Oversight Commission oversees compliance by the executive branch with the budgets enacted by the General Assembly. In April 2022, the legislative branch enacted a budget for FY23 (the 12-month period starting on July 1, 2022, and ending on June 30, 2023) that was believed at the time to be in surplus.
The General Assembly's budget-monitoring arm, the Commission on Government Forecasting and Accountability (CGFA), has already warned that Illinois' FY23 tax revenues are falling far short of projections. Tax payments made to the Department of Revenue (IDOR) in the key tax payment month of April 2023 generated disappointing numbers. Now, GOMB has updated its April 2023 and FY23 numbers to reflect these tax shortfalls. The gap is a massive one. For example, GOMB had expected that, for April 2023, the State would receive individual income tax payments of $3.77 billion. In reality, the State received only $3.13 billion from this source in April 2023, leading to a shortfall of $637 million for the month. Corporate income tax payments and sales tax payments also fell short of expectations in April.
The GOMB report confirms that sharp, bipartisan action will be necessary if the General Assembly is to maintain its constitutional responsibilities and enact a balanced budget for the approaching FY24. With many facets of the global economy slowing down, money is coming in well below projections, and this is not a problem that going to go away. At the same time, many Democrats in Springfield are pushing for new spending programs and more generous funding for existing programs. The balanced annual Illinois State Budget is a Constitutional requirement set forth in Section 2 of Article VIII of the Illinois Constitution.As Republicans push back against ballooning costs associated with free health care for undocumented immigrants, Democrats shut Republicans out of budget talks. The Medicaid-style health benefits program for undocumented immigrants now costs $1.1 billion, which is $880 million more than had been previously projected by the Illinois Department of Healthcare and Family Services (DHFS).
Within the terms of this controversial program, Illinois has repeatedly expanded taxpayer-funded health benefits for undocumented immigrant adults. The current program covers all adults in these categories who are aged 42 and up. These adults are covered in age groups aged 42 to 54, aged 55 to 64, and those aged 65 and up. Immigrant enrollees pay no insurance premiums or co-pays for this taxpayer-funded health benefits program.
Budget analysts say that the cost of this program, which has seen massive expansions in the Democrats' budgets as recently as April 2022, is now swallowing up almost all of the natural growth in resources enjoyed by the State sector of Illinois' overall public sector. Because this program is growing so fast, there is no additional money to deal with other urgent priorities.
The Rules of the House and Senate chambers of the Illinois General Assembly provide for appropriations committees to meet, hear witnesses, discuss the budget issues facing Illinois, and allocate available money. In a series of moves associated with Illinois' current budget shortfall, and with the sharp cost pressures associated with undocumented immigrants and other needs, the hard numbers in the FY24 budget have been pulled out.
Attention Students – Join Rep. Jacobs' Summer Reading Club!
As your 118h district State Representative, I want to invite you to participate in my annual "Reading the Magic" Summer Reading Club. Those students that read EIGHT books this summer will be to receive an official Illinois House of Representatives Certificate of Recognition as well as a coupon for a free custard from Culver's, a coupon for one dozen donuts from Krispy Kreme in Marion, and two tickets (one for the reader, one for a parent/guardian) to a Thrillville Thrillbillies Prospect League baseball game at Mountain Dew Park in Marion in July 2023 for a special "Night at the Ballpark" celebrating summer readers!
Rep. Jacobs's Summer Reading Club Rules!
Representative Paul Jacobs's Reading the Magic summer reading club challenges 1st through 4th graders to read 8 books during their summer break. Books for local library programs are also acceptable and books over 150 pages may count for 2 books.
Once a student completes the book reading, please fill out the form and have a parent or guardian verify that the books were read.
Completed forms should be sent to State Representative Paul Jacobs 206 W. College, Suite 22, Carbondale, IL 62901 or scanned and emailed to Jacobs@ILHouseGOP.org
Students reading at least EIGHT books this summer will receive an official Illinois House of Representatives Certificate of Recognition as well as a coupon for a free custard from Culver's, a coupon for one dozen donuts from Krispy Kreme in Marion, and two tickets (one for the reader, one for a parent/guardian) to a Thrillville Thrillbillies baseball game at Mountain Dew Park in Marion in July 2023 for a special "Night at the Ballpark" celebrating summer readers! Details to be determined.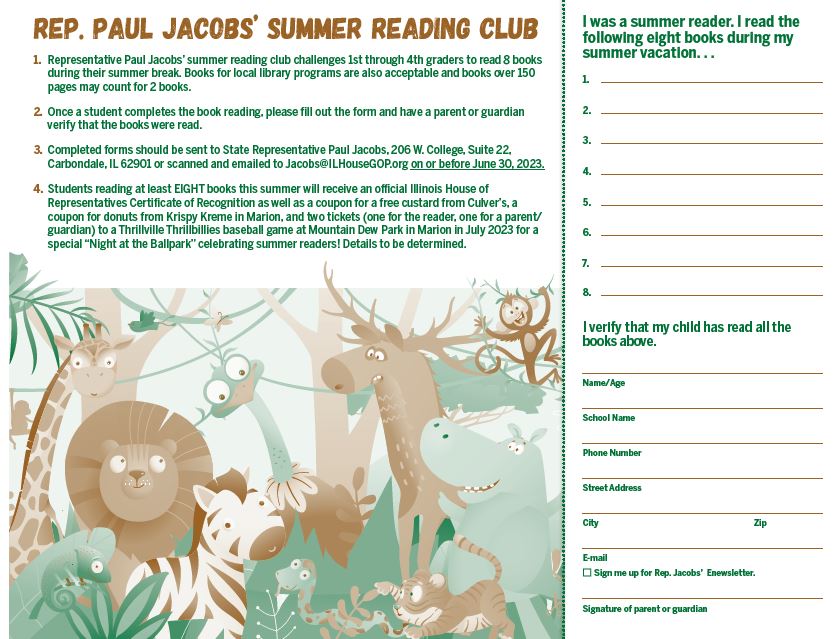 Jacobs Joins 'Suits and Sneakers' Effort on House Floor to Raise Cancer Awareness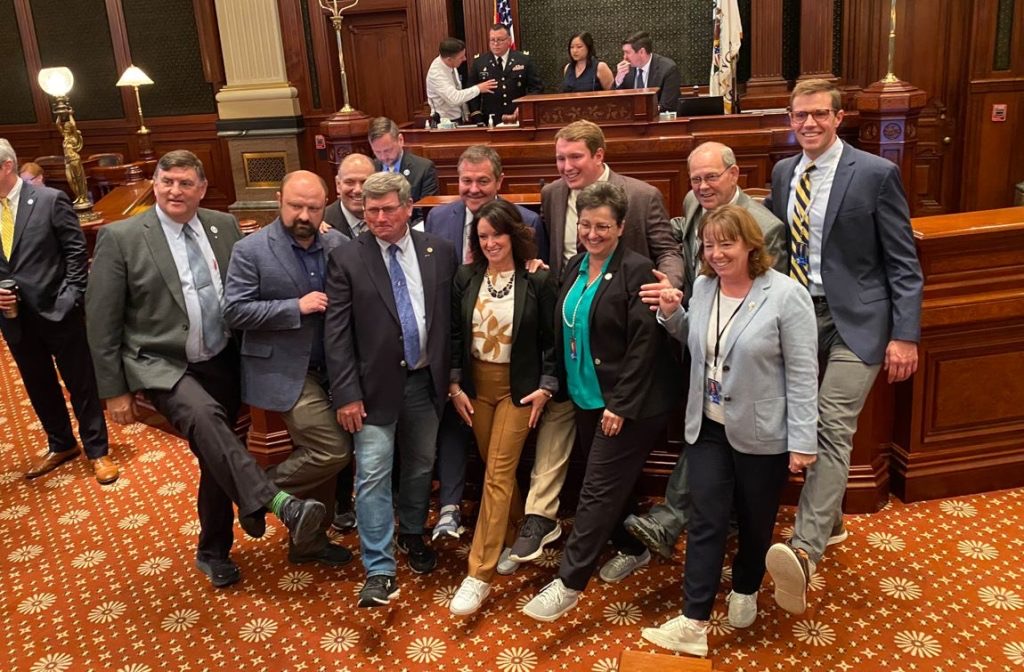 Last week, Rep. Jacobs joined fellow GOP lawmakers in wearing "Suits and Sneakers" in an effort to raise cancer awareness. According to the American Cancer Society, 74,580 individuals are estimated to be diagnosed with cancer in Illinois this year.
Stay Connected!
I am happy to offer my constituents three full time offices where they can access services and have their questions answered. You can reach me by email at Jacobs@ILHouseGOP.org and you can stay up to date on all the latest news at RepPaulJacobs.com.
District Office – Marion
600 Halfway Road, Suite 103
Marion, IL 62959
(618) 534-9880 – phone
District Office – Carbondale
206 W. College, Suite 22
Carbondale, IL 62901
(618) 534-9880
Springfield Office
234-N Stratton Building
Springfield, IL 62706