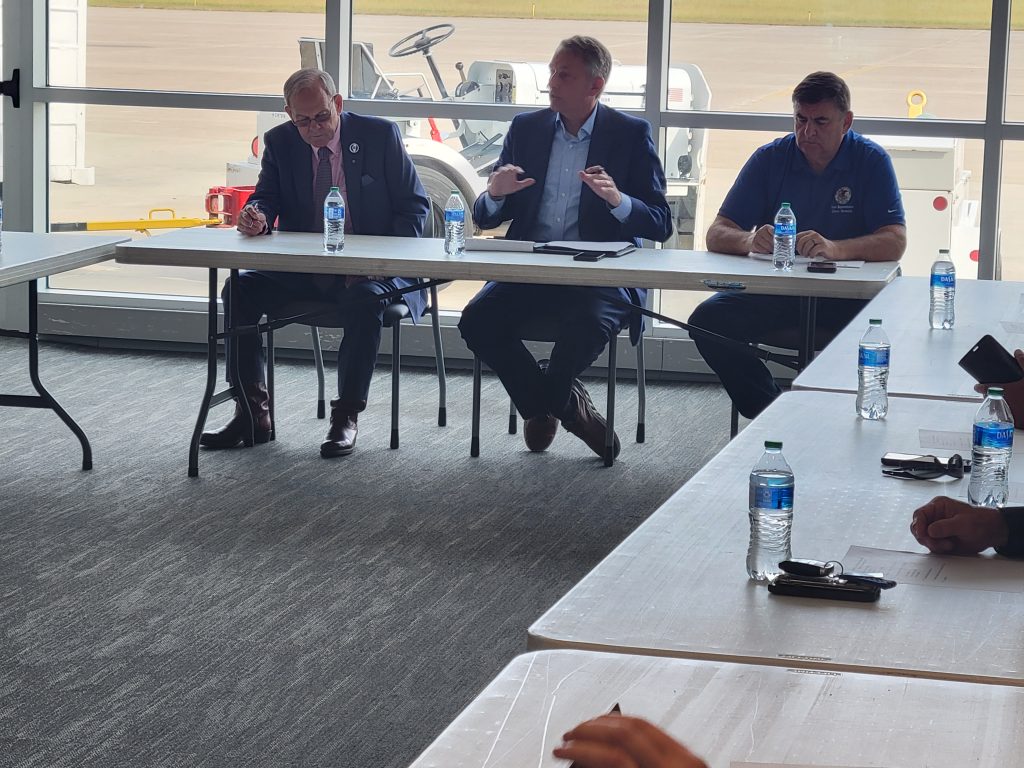 SOUTHERN ILLINOIS – On Wednesday, House Republican State Representatives Patrick Windhorst, Paul Jacobs, and Dave Severin hosted local law enforcement officials for a roundtable discussion centered on the impact that the end of cash bail has had on the criminal justice system. Law enforcement officials including State's Attorneys, County Sheriffs, city police chiefs, and deputies met at the Marion Veteran's Airport to provide the lawmakers with information on how their operations have been impacted since the end of cash bail took effect on September 18, 2023, as part of the implementation of the controversial SAFE-T Act.
Representative Windhorst (R-Metropolis) serves as both the House Republican Floor Leader and as the Republican ranking member on the House Judiciary Criminal Law Committee. Windhorst voted no on the SAFE-T Act.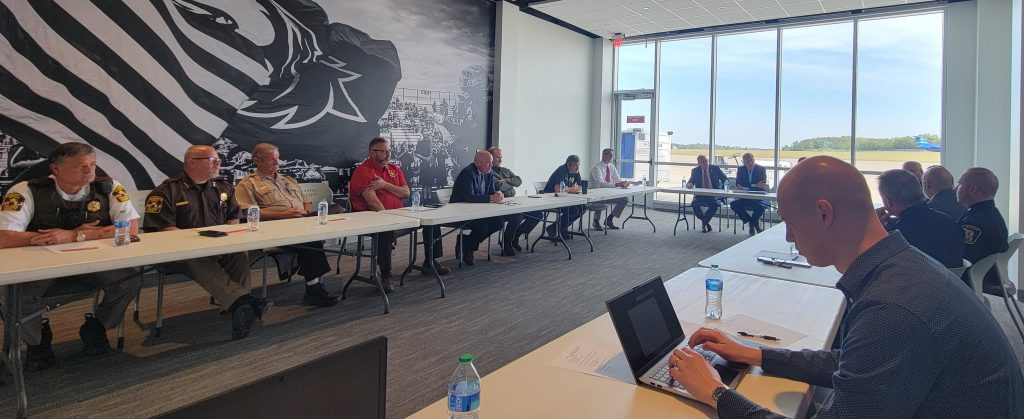 "What I heard from our law enforcement community reaffirmed the fears that I had when the SAFE-T Act passed. Our law enforcement officials are demoralized, receiving less funding with more mandates, and our courts are being overrun with repeat offenders and those repeat offenders are being let out of jail with no bail," Windhorst said. "The frustration that was expressed to us included a lack of funding, increased workloads, instances of repeat offenders. What sticks out to me is how hard our law enforcement community is working to try to deal with the impacts of the new law. I am grateful to them for their hard work. I am working diligently to collect information on this topic and looking forward to introducing meaningful legislation to address these serious concerns."
State Rep. Dave Severin (R-Benton) previously served as the House GOP ranking member of the House Judiciary Criminal Law Committee. He says he stands with law enforcement officials as they deal with the sweeping impacts that changes in the law have had on the criminal justice system.
"I was a no vote on the original SAFE-T Act, and at the time the law passed, I was very vocal in expressing deep concerns for our police and victims of crime especially," Severin said. "I was not surprised, but I was disturbed to hear account after account of the unworkable nature of the new law and how it is harming the ability of our police officers and State's Attorneys to arrest and detain dangerous people and impose consequences on them. Defunding our police, defunding our court system, and dismantling our system of justice is having predictably terrible consequences."
Rep. Paul Jacobs (R-Pomona) agreed with Severin and Windhorst's assessment following the meeting that law enforcement needs more help from the State of Illinois when it comes to dealing with the impacts of the law.
"I was struck by the fact that the things I said would happen if we take apart our system of justice and replace it with soft-on-crime policies are coming true every day in our communities," Jacobs said. "To my Democrat colleagues in Springfield, I hate to be the one to say, 'We told you so', but we did. Now the people I serve are less safe. The criminal element feels emboldened and our police officers and members of law enforcement in our court system are further demoralized and overworked. We can and must do better as a State than to allow this to continue. I'll be joining with Rep. Windhorst to push for legislative solutions that re-establish a no-nonsense, tough-on-crime approach to criminal justice. Our citizens deserve nothing less."
Law enforcement officials representing Franklin, Jackson, Massac, Pope, Pulaski, Saline, Williamson, and Union Counties and the city of Marion were on hand to provide input and participate in the discussion with the Southern Illinois lawmakers.
###