Marion, IL – State Senator Dale Fowler and Representatives Paul Jacobs and Patrick Windhorst joined the family of fallen police officer Brian Pierce Jr. Wednesday for a dedication ceremony at the Spillertown Community Center following the passage of SJR 31 in his honor.
"Brian Pierce Jr. was tragically killed while fulfilling his duties as a police officer in the Metro East area," said Senator Fowler. "Brian was a valuable asset to southern Illinois, especially with his assistance in constructing a police department in Spillertown which had not existed for more than a decade. Because of his service, we must honor his positive impact on public safety and never forget his service to his community and the entire region."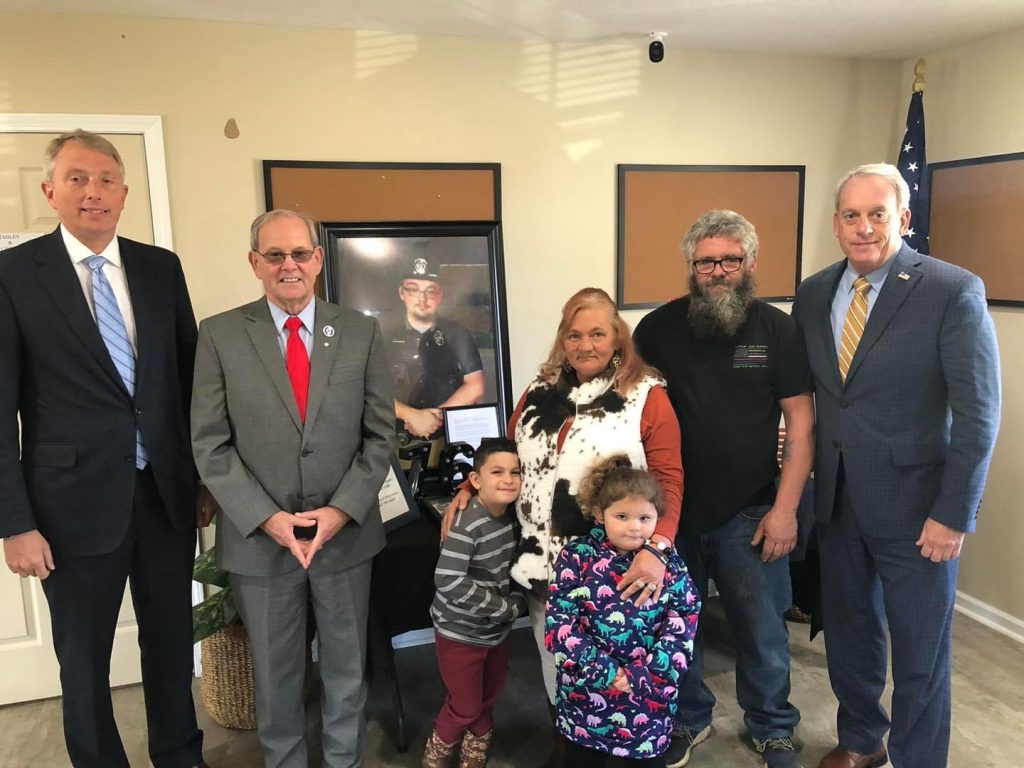 On August 4, 2021, Officer Pierce Jr., from Carbondale was working for the Village of Brooklyn when he was deploying stop sticks to stop a fleeing vehicle.
"Our world is a better, safer, more peaceful and just place because Officers like Brian Pierce, Jr. step into the breach on our behalf, offering their time, their bodies, and their lives to stop dangerous criminals and keep all of us safe," Windhorst said. "The reason we put up markers like these is to recognize and memorialize the life, service, and sacrifice of our fallen heroes."
Senator Fowler and Representatives Jacobs and Windhorst passed Senate Joint Resolution 31 during the Spring Legislative Session which designates a section of Illinois Route 37 from Longstreet Road to Prosperity Road through Spillertown as the "Officer Brian Pierce Jr. Memorial Highway."
"I believe it is critical that we continue to construct memorial highway signs where appropriate because our citizens who live in peace and safety should be reminded of why that is the case," Rep. Jacobs said. "We honor Officer Pierce today and we will keep his family in our thoughts and prayers, as his loss is surely felt close in their hearts to this very day."
Pierce Jr. was a graduate of Elkville High School, who also served on the Elkville Fire Department and as a correctional officer at the Menard Correctional Facility. He also served on the Makanda Township Fire Department, where he spent time training younger firefighters.
###